Client Makeover: The Writer
Every once in a while, a male client comes along, and I remember how fun it is to work with men. Don't get me wrong, you ladies are the best, but sometimes it's cool to mix things up.
Enter "The Writer."
One of my female clients referred him to me. They work together in the TV/film industry, and he was admiring her sense of style, he asked her how she  always managed to look so pulled together, and she revealed her secret … ME!
He shot me an email; we jumped on the phone, and I immediately go to work.
Before
As you can see, "The Writer" wasn't a total train wreck. Nothing is terribly outdated or ill-fitting. However, he knew (and so did I) that his style had room for improvement. He also knew he HATED shopping with a passion, so he wasn't going to get very far on his own.
After speaking to him during our consultation and reviewing his 'Style Homework' two things became very clear to me:
1.) He needed to dress his age! While his face and spirit are very young looking, a professional man in his upper 40's who is seriously kicking ass in his career needed to look the part.
2.) I needed to create a wardrobe that was timeless and could be easily mixed and matched. This would make getting dressed a breeze, AND it would make it, so he didn't need to go shopping for a long time.
Style Development
After I collect and analyze my client's 'Style Homework', I immediately get to work on a custom Pinterest board. This is where I pin images that will shape and inspire my client's new look. I share this board with the client, and they can provide feedback and add pins (only if they want to).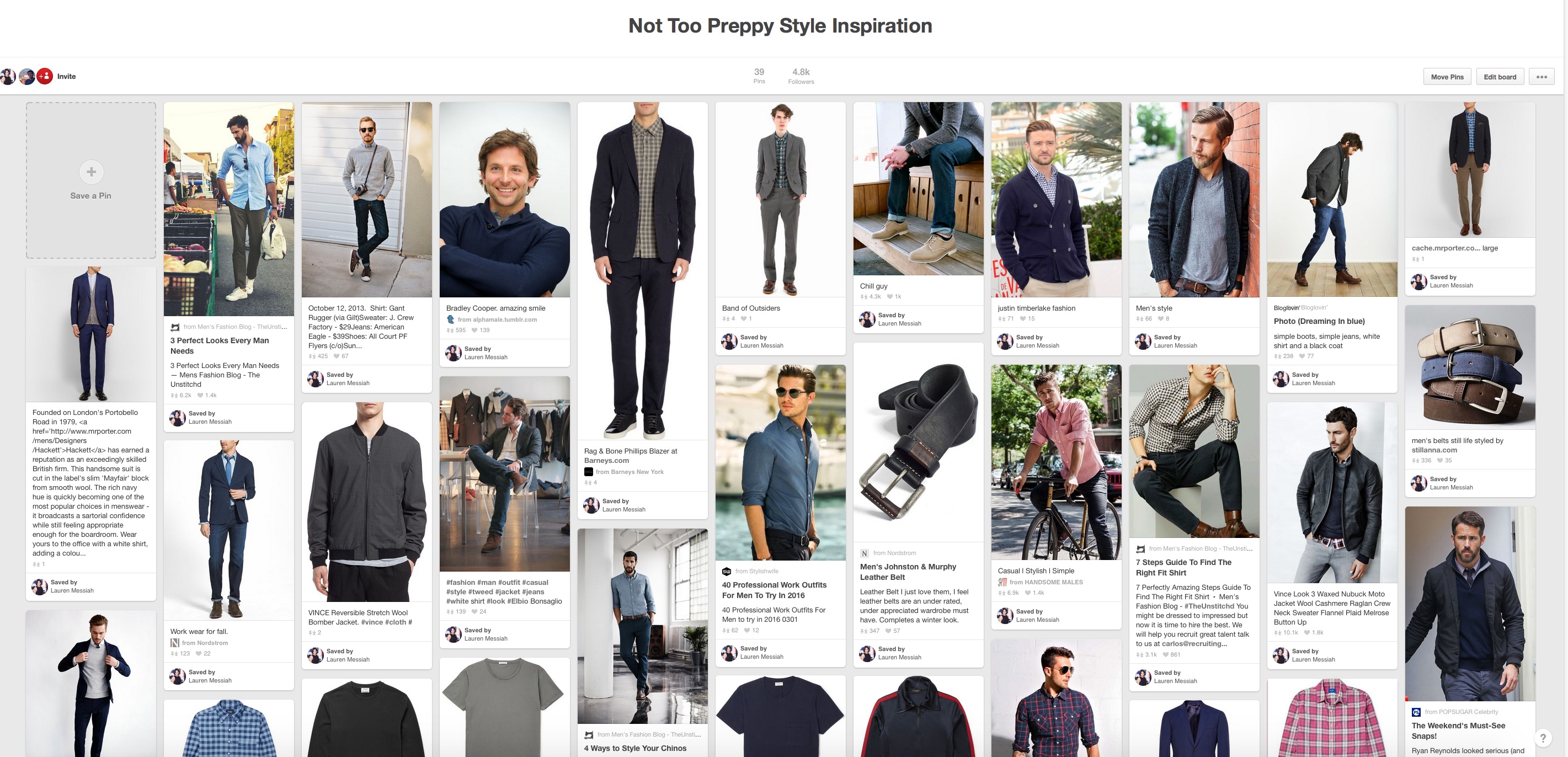 I called this client's board 'Not Too Preppy.' During our consult, he described his ultimate style, as "preppy but not." That might leave most of your heads cocked to the side, but I totally got it. Grown-up J. Crew is how I thought about it – less frat boy and more grown man.
Shopping
This client picked the 'Get Me The Good Stuff' wardrobe budget, he wasn't afraid to invest in his wardrobe that he said he'd love it if I could find some deals along the way. You know I love finding a deal just as much as I love spending the day at Barneys, so here is where I went …
Mr. Porter
Nordstrom
Barneys
Vince
Saks OFF 5th
Nordstrom Rack
Bloomingdales
Also on my list were Steven Alan and American Rag – but I had already pulled SO much stuff that I had to stop myself.
The Fitting
My fittings are always fun – it's kinda a rule in the LM world. I had plenty of snacks set out, and my client chose Beyonce's Lemonade album as the playlist for the fitting.
Most male clients can only stand to try clothes on for about an hour, not "The Writer" – he tried on clothes for 3 hours!! It was pretty epic. He bought a ton of great stuff and everything looked fantastic on him.
The biggest shocker, he booked me for a second fitting the following weekend because he wanted more stuff! He went from hating shopping, to style obsessed.
After
I was so pleased with the after, so damn pleased. There are more after photos, but I thought these pretty much summed up the magic. He looks freaking AMAZING!! Age appropriate, he is probably showing his success without being too flashy, and his confidence soared.
Do I have the coolest job on earth or what?
Save
Save
Save
Save
Save
Save
Save
Save
Save
Save
Save
Save