Diary of a Dater: How to Not Waste A Hot Outfit On A Cold Date
Spoiler Alert: This story start with Tinder, so you know the ending can't be all that great but you know it's at least going to be a fun story.
The Man:
I've heard plenty of tales of Tinder resulting in loving, long-term relationships but right now I'm calling bullshit.  You see I first joined Tinder purely out of morbid curiosity. Tinder, this once deemed "hook-up" site was now the fresh, modern way to snag a mate.
I was sold. Swipe left for no, swipe right for yes, and when you both swipe right a love connection is made – or so I thought.
For those of you who haven't experienced the magic called Tinder; it's filled with clichés, douche-bags, NFSW pics, and unsavory characters masquerading as the perfect man for you. Now I'm not completely bitter; there are some good guys on there too, but they are few and far between.
My second Tinder date ever had all of the qualities of a good one. You know, based solely on seven photos and a 3-sentence description of himself/ what he is looking for in a woman.  We matched, we chatted, he got my phone number, we exchanged a few texts, he set a date, picked two restaurant options, and a few days before confirmed the date. The day of, he re-confirmed and said he was excited about meeting me – so far, so good.
After I short series of dating disappointments, I knew not to get too excited about this one, but there is always a chance it will actually be a good one – so I had to dress to impress.
The Look:
Right before I booked this date (and the three others for the week – stay tuned) I went on a semi-insane shopping spree. Since deciding to put myself out there after a year of being single, I needed new single girl clothes.
Top by ALC, Skirt by Helmut Lang, Shoes by Manolo Blahniks, Clutch by Claire V
What are single girl clothes? Single girl clothes are pieces that make you feel confident, sexy, and are basically a fashionable trap to catch a quality man.
With a wardrobe bursting with single girl clothes, I decided on my no-fail combination, which consists of a crop top and some version of a pencil skirt aka a "booty spell" skirt.
I was looking good and feeling good, but then the thought came to me … "Am I wasting a hot outfit on what could potentially be a cold date?"
My solution: Put a jacket on it!
I added a structured blazer just in case this man wasn't worthy of the hottie spell I was casting.
The Date:
We met at a trendy restaurant in Beverly Hills. I'd never been there before, so I arrived early to scope out parking and the scene. To my shock and horror, there were three entrances to this place. Three! I had no idea which door to enter, so I was hoping he would meet me outside. Nope! He texts to say he's inside, at the bar, wearing a white dress shirt – well that really narrows it down. Sure I'd seen his picture but how reliable is a Tinder photo?? Luckily I was able to find him. I walked in wearing my jacket, you know can't be too attractive in case he's not.
My initial reaction was meh. His Tinder pics weren't entirely accurate (c'mon, guys) and, wait for it, he shook my hand! I went in for a hug, and he went in for a handshake. Awkward!  Pretty pleased with my decision to wear the blazer so far.
We sit down at the bar for dinner. He is polite and orders for me but, of course, asks for my input. Win. He compliments my outfit and says I have great style. Okay fine, I'll take the jacket off. Now I have his full attention.
As the date goes on, it doesn't take me long to figure out that he is the headlining act of Snoozefest 2015.  Nice guy boring as all get out. I'm sure he's a thrill a minute to another girl but not to me. The boredom coupled with a few other awkward moments (I'll spare you the details) made it quite clear that there was ZERO chemistry.
Of course, this was a one-sided observation. As the end of the night nears, I could tell he was going to try to kiss me. What did I do? I popped that blazer back on. This girl is closed for business, Mr. Boring. The date ended with an actual hug and an apology for the handshake. Again, awkward.
He did ask me out on a second date and again complimented me for my amazing style. The second date didn't happen, but I'll be busting out this first date outfit again for hopefully a more exciting date.
Takeaway Style Tips:
1.) Bring a jacket!
Not only can dates get unpredictably cold (temperature-wise), they can appear hotter than they actually are. Cover up that sexy with some a blazer or a jacket.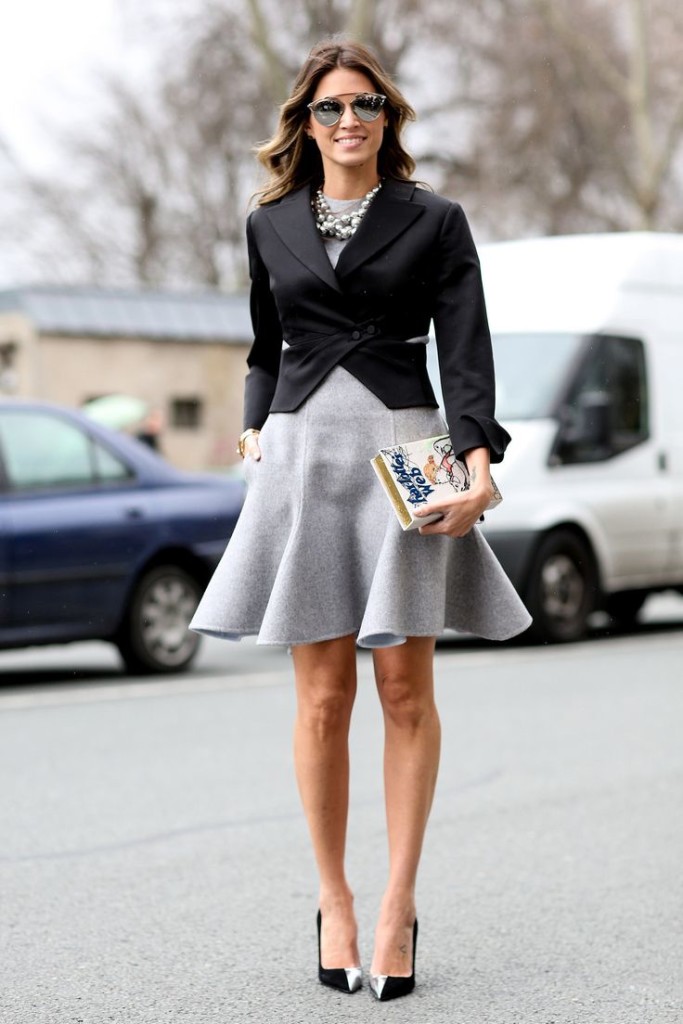 2.) Dress to impressive, even for the non-impressive
You never know how a date is going to turn out, so dress as if it's going to turn out great. There is nothing worse than showing up slumpy and wishing you had stepped it up.
3.) Own your feminine energy
Most women wouldn't bust out a skirt for a first Tinder date but use your feminine energy to your advantage. I felt hot, sexy, and worthy of being desired – this helped me put my best foot forward on the date.