His and Hers Valentine's Day Gift Ideas

Valentine's Day is right around the corner and if you don't have a gift picked out for that special someone, then you are in luck because I have a ton of amazing gift ideas for you. I stopped by KTLA this morning to gab about all of my favorite products, if you missed it you can watch it here but definitely keep reading to find out where to buy all of these amazing gifts.
For the Foodie …
Plated: Okay I am basically obsessed with Plated. Plated delivers restaurant quality recipes and the freshest ingredients right to your door! This takes the question "what's for dinner?" right out of your vocabulary. They have a special offer going on right now too, 4 FREE plates with your first order. Seriously, you want to capitalize on this deal.
Man Crates: This company is freaking genius! If you ever get stuck on finding a gift for the men in your life, your problems are solved. They have crates for beer, survival, video games, golf, and a massive selection of snack based crates. I brought the bacon box to KTLA because, well, bacon. Get it here for $59.99.
For the Music Lover …
Restoration Hardware: The problem with a lot of speakers is that they are not exactly attractive. Restoration Hardware has fixed that issue with this beautiful vintage inspired speaker. Bonus, it's on sale right now!
OM/One: Ready to have your mind blown? OM/One has created a levitating speaker!!! Levitating. Not only can you play music on this speaker, you can use it as a speaker phone as well. Purchase this for only $199 – but do it fast because they are flying off the shelves.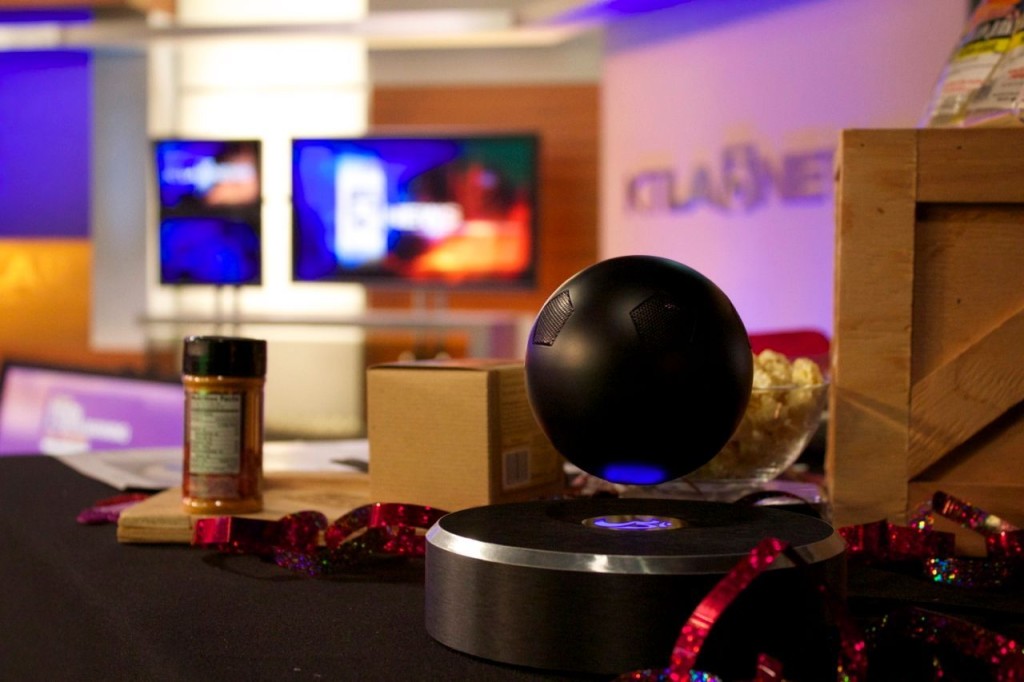 Maybe Some Lingerie …
Hanky Panky: Hanky Panky has always been a favorite of mine and they've stepped it up big time for Valentine's Day with thong roses. Get her a dozen for $300 or a single rose for $27. Much better than fresh flowers if you ask me.
Me Undies: Coolest underwear for men EVER. The material is super soft, they come in great colors, AND they even have limited edition Valentine's Day designs. Get a pack of 10 for $160.
 If You Have a Sweet Tooth …
Sugarfina: This is candy done right! I first read about Sugarfina in Entrepreneur magazine and I knew I had to try their candy (even though I'm trying not to eat sugar). They have the cutest little gift sets and adorable chocolates. I can't get enough of the chocolate camera that says "we just click". Thankfully it's too cute to eat.
And For the Beauty Buff …
Glossy Box: There are a ton of monthly beauty boxes out in the world but I was very impressed with Glossy Box. Their buyers scour the world for the best products and they give large sized products – no dinky samples here! For only $21 a month you can try high-end beauty products.
Dollar Shave Club: This gift is technically for the guys but girls love it too … Dollar Shave Club! Fresh razors delivered to your door for under $10. Dollar Shave Club even sells mens grooming products that you can add to your monthly delivery. I am a member and I love it! SO much easier than buying razors at the drugstore.
Thank you to KTLA for having me and to JoAnn Fabric and Craft store for supplying the decorations for the table. Happy Valentine's Day!