5 No-Fail Looks If You Are Bigger on the Bottom
If your body type is "bigger on the bottom" chances are you aren't all that interested in rocking a bodysuit and tights like Queen B is illustrating above. I get it. Most of the women I style with this particular body type body type would rather conceal their assets to create a more balanced appearance.
This week's "5 No-Fail Looks For Your Figure" post is for women who carry their weight in their lower half. Whether its your booty, hips, or thighs – I've got you covered with 5 outfits that will balance and slim you out.
1. Flared Skirts and Dresses
It may feel counter-intuitive add more fabric to an area that is already a little larger than you'd like BUT this styling trick actually does make you look smaller. The looser fabric will drape effortlessly over your curves instead of pulling tight across it, which will make you look larger. Go for something strapless to show off your shoulders and to draw the emphasis upwards or try a strong attention grabbing sleeve instead.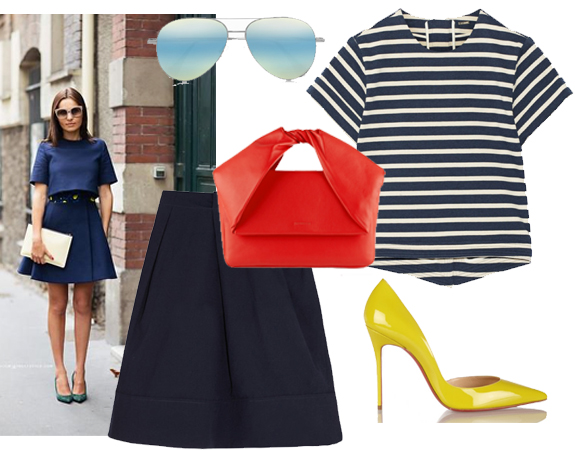 2. Dark Bottoms
If you want De-emphasize your bottom half, then wearing darker colors on the bottom is the way to go. Avoid patterned pants and light colored pants, as they draw attention to your trouble area – save all that magic for your top half instead.
3. Structured Shoulders
If you want to create a balanced body, think of the hourglass as your goal. If you are bigger on the bottom, you've already filled the bottom half of the hourglass. All you need to do is fill the top. A great way to do that is by adding volume up top with a structured shoulder. Look for jackets with a slight shoulder pad or some type of embellishment to draw the attention upwards.
4. Printed Tops
If you are bigger on the bottom, your wardrobe should be filled with printed tops! Wear these with jeans, skirts, pants – and you have an easy go-to flattering outfit.
5. Cropped Jackets
Don't cover up your bottom half with a long jacket or blazer, instead go for something cropped. A cropped jacket draws the eye up and brings attention to your tiny little waist.
How do you dress to best flatter your figure?