14 Essentials for a Corporate Chic Look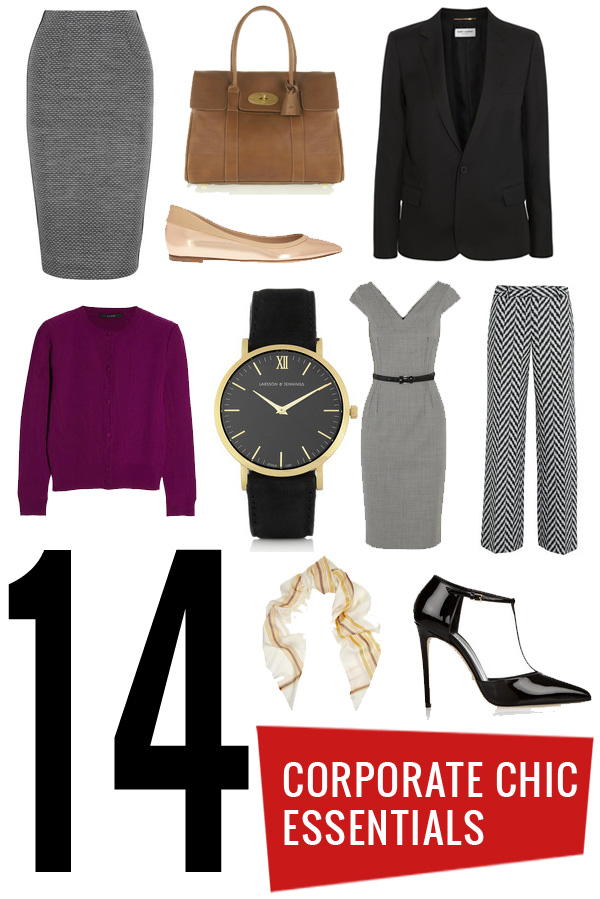 You don't have to break the bank to acquire a stylish office wardrobe. Having a few key pieces will get you from Monday through Friday and will even transition into your beloved free time. The key is to buy pieces that you can mix and match to create different looks for everyday of the week.
Here are my 14 office essentials to help you be a boss while looking totally boss.
1. Tailored Black Blazer
My stars do I love a black blazer! A black blazer add instant polish and professionalism to your look. Splurge on a good one because this piece will last you a lifetime and you can wear it outside of the office as well.
2. Killer Pant Suit
A matching suit set is the ultimate "boss" look. Grab it in basic black, gray, or navy to play it safe OR go bold with color like red or maroon. Another bonus is that you can deconstruct your suit and wear the pieces as separates. Boom!
3. White Blouse
Love a white blouse. This is another staple piece. A white blouse can also be dressed up or down. While at the office, wear it under a pant suit or a blazer for a sophisticated look. You can roll/cuff the sleeves for a casual Friday outfit.
4. Structured Handbag
Cheesy briefcases are, well, cheesy. Grab yourself a structured handbag that has enough room for your laptop and paperwork.
5. Pencil Skirt
Pencil skirts mean business. Period the end. Another instant polisher for the old 9-5.
6. Pointy Flats
Give your feet a break and opt for a pointy flat instead of a pair of heels. The point gives polish and professionalism all while providing comfort. Total win.
7. Black Pumps
Get yourself a pair of black pumps if you don't already have a pair. I would even go as far as saying this, invest in a high-end pair from Christian Louboutin, Manolo Blahnik, or Prada. They will pay for themselves in wear and in stares.
8. Wide Leg Trousers
Want your legs to look longer? Wide leg trousers are the ticket. They also are super comfy which is crucial if you get stuck working overtime.
9. Baller Watch
Every boss needs a watch. Not just to tell time, but just so people know who the boss is! A nice watch is a great accessory that goes with any outfit. I like the oversized men's watch with a leather band. Nothing too blingy or bedazzled.
10. Silk Scarf
There are so many ways to wear a silk scarf. I would venture to say that it's the ultimate corporate accessory.
11. Sheath Dress
This is "the" business dress if you ask me. Go for a modest hemline that hits right at the knee or an inch below.
12. A Great Coat
Nothing spoils a killer corporate chic look than a ratty old coat. Bosses wear nice coats. Get one. When in doubt, you can never go wrong with a classic trench.
13. Cashmere Sweater
When you don't feel like wearing a button down or a blazer, a luscious cashmere sweater will get the job done. Pair it with your pencil skirt or your wide-leg trousers to instantly look promotion worthy.
14. Cardigan
In addition to your pullover sweater, a classic cardigan is a must. Also a great go-to when the office AC is blasting.
What are your 9-5 essentials? Share them in the comments.