5 Gym Prep Beauty Steps

When it comes to style and getting in shape, I like to look good. You never know who you are going to meet while you are working up a sweat. I have meet clients, new friends, and have run into old friends all while working out.
Now, don't get it twisted – I am not one of those workout beauty queens. Fresh blowouts and a full face of makeup aren't in the cards for me. My beauty routine has to work with my workout. I mean, the workout is the whole point, right?
I've got 5 tips that will have you looking good and feeling good in no time.
1. Moisturize
Before heading off the gym I make sure I am properly moisturized. If you are showing any kind of skin you don't want it to be scaly. A non-scented lotion on your body and a tinted moisturizer on your face is the perfect solution. If you want to look extra toned in your tiny tank try a lotion with bronzer to "sculpt" those guns.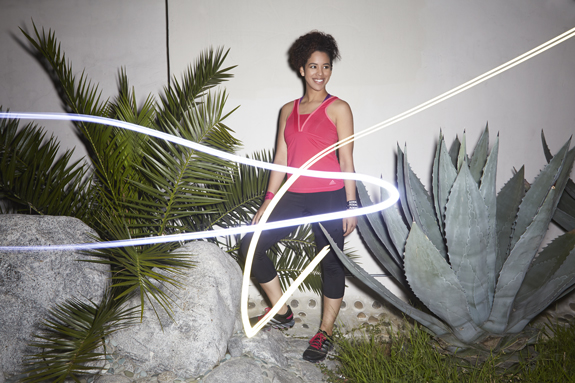 I am showing off my "guns" in this great Splice tank from the Twist collection. The V-neck is universally flattering (aka anyone can wear it) and the pink flatters my skin tone making giving me a make-up free glow.
2. Quick Hair Care
Hair in your face doesn't work during a workout. I always bring an adidas headband or two to tame any wild hairs. For bonus style points, wrap them around your wrist for a makeshift bracelet.
3. The "Other" Hair Care
There is nothing worse than putting on an adorable pair of cropped workout pants and realized you forgot to shave your legs. I don't know about you but if I don't feel confident my workout suffers. Keep a disposable razor in your gym bag for a quick locker room shave.
Plus when you are wearing the most stylish running shoes ever, people are going to be looking at your legs!
4. Double-Duty Makeup
I am not one for wearing makeup at the gym but sometimes even the most beautiful girls need a little help. I use the cult favorite Rosebud salve to give me lips moisture and a natural flush of color. This balm also helps condition dry elbows and knees if you forgot to moisturize before heading out the door.
When wearing a gloss or some sort of lip color go natural or wearing a color that compliments your wardrobe. The pinkish hue of the gloss really plays off of my gray boyfriend crew neck sweatshirt.
5. Support Yourself
Beauty doesn't always mean beauty products. Having a great foundation for your workout attire is sometimes more important than your hair and makeup. I always make sure I am outfitting in a supportive and stylish bra. Take a few minutes out of your day and dump all the old tattered sports bras that aren't working for you. I always reach for my trusty Techfit bra. Stylist tip- if you wearing a looser tank, link the Splice tank, try a sports bra with molded cups for a more stunning silhouette.
That's how I keep things pretty at the gym. What are your fitness beauty secrets? Share them in the comments below.
Featured Products …
adidas Women designs innovative performance products to help women commit to their best self and conquer their fitness goals.  We inspire women to look and feel their best, so kick-start your workout today with new styles from @adidasWomen. It's time to #committomore. www.adidas.com/women
Disclosure: Compensation was provided by adidas via Glam Media.  The opinions expressed herein are those of the author and are not indicative of the opinions or positions of adidas