Sportswear Style Essentials For Spring Break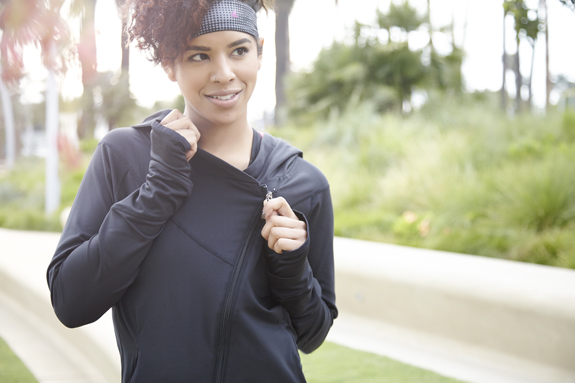 Ah, spring break. I remember when spring break meant a week of non-stop partying and frolicking around in a bikini. Well I've got news for ya, them days is over! These days if I even get a "spring break" it plays out more like this … non-stop Netflix binges, playing with my dog, and getting my body ready for summer with a few extra Pilates sessions. My secret to actually working out between Netflix binges? Working out in gear that doubles as comfortable lounge wear. It's called fashion multitasking, my friends.
Now lets meet the pants I've been living in the spring. Enter the adidas Boyfriend Capri. Now I can give last season's adidas boyfriend sweats a break. These pink sweat pants are perfect for watching House of Cards for hours on end and they also work well once I finally peel myself off the couch to go on a hike with Yohji (my dog). Same goes for my Powerluxe Breath Tank – acceptable for lounging and completely functional (and fabulous) for a workout. Throw a jacket on top and I am good to go.  I am actually really feeling this hoodie. The cross-body zipper makes it way cooler than your average hoodie and you know I am a sucker for a thumb hole.
I also had to share my newest pair of Springblades. Last season I was rocking the silver and blue pair but for spring it is all about the pink and black. Just because it's spring break doesn't mean you need to skip out on style. These adidas Springblade Razor sneakers always turn heads. In fact, while I was in Venice doing this shoot, five people came up to me and asked me about these awesome shoes. Five! A little tip, you are going to get a pair for yourself I recommend getting a size down as they run a little large.
How do you stay stylish and fit during spring break?
Featured Products …
adidas Women designs innovative performance products to help women commit to their best self and conquer their fitness goals.  We inspire women to look and feel their best, so kick-start your workout today with new styles from @adidasWomen. It's time to #committomore. www.adidas.com/women
Disclosure: Compensation was provided by adidas via Glam Media.  The opinions expressed herein are those of the author and are not indicative of the opinions or positions of adidas