Runway to Reality: Nailing '90s Sportswear Style

Fun Fact: I freaking LOVE the 90s.

Maybe it's because my teenage years were spent in the 90s (even though I hated being a teenager) but I am just a sucker for all things 90s – from Saved by the Bell to Nirvana – if it's 90s its cool with me.
When it comes to 90s sportswear there were two camps – the spandex girls and the classic adidas tracksuit types. I wanted to recreate a modern sportswear look that was inspired by the 90s. I couldn't decide between channeling the craziness of the spandex or the classic old-school vibe of tracksuit look, so I decided to channel both.
If you are looking to bring in a little 9os action into your workout attire then you need to follow my simple styling tips …
Crazy Pants
How often do you get the chance to wear skin-tight, crazy printed pants? Not often enough if you ask me. So why not go crazy at the gym, the yoga studio, or on your morning run? The secret to wearing crazy pants is a.) having confidence and b.) keeping it simple up top. What I love about the pair that I am wearing is the fit. They are tight enough to hold it all in and stylish enough to wear out after my workout.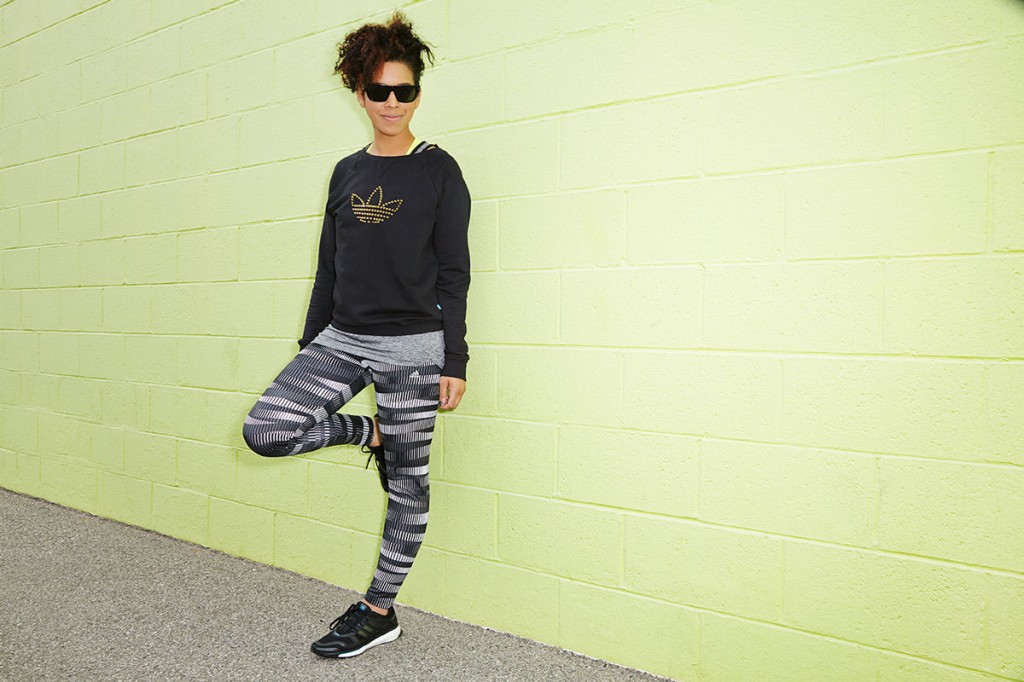 Kicking it Old School
The thing I love most about adidas is the classic element (read: always in style). Three stripes are never going out style. Ever. Adding a garment with the classic three stripes or the adidas logo will instantly add an element of cool to your look. This studded sweatshirt is the bomb.com and I have pulled in a ton of compliments with it. This sweatshirt can easily be worn during a workout or after.
Don't Forget Function
Being the cutest little thing at the gym is awesome but you can't forget about function. As always I am rocking my Techfit bra (it's my workout staple). This time my Techfit bra is in a neon yellow, which to me gave that perfectly loud 90s flair. Since there is so much going on with my outfit (print, neon, studs) I kept it simple with the shoes My favorite adidas shoe of the moment is definitely the Boost 2.0 sneaker. Comfort for days and they literally give me an extra pep in my step. I've also slipped on the most epic heather gray Baby bro tank underneath the sweatshirt, you know, in case I work up a sweat 😉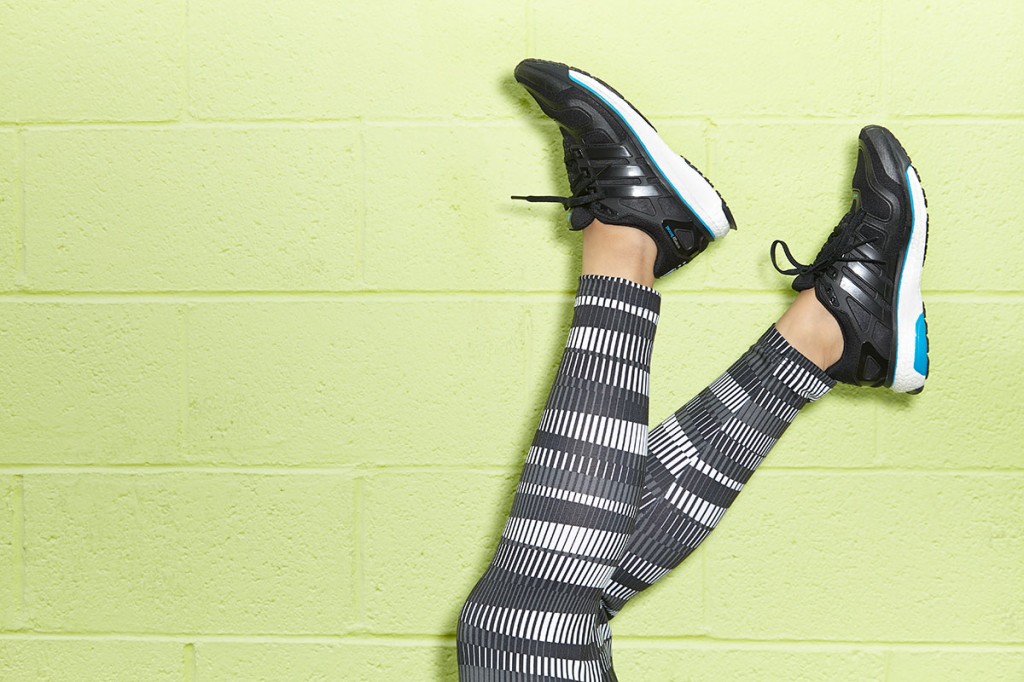 How are you incorporating the 9os into your look?
Featured Products …
adidas Women designs innovative performance products to help women commit to their best self and conquer their fitness goals.  We inspire women to look and feel their best, so kick-start your workout today with new styles from @adidasWomen. It's time to #committomore. www.adidas.com/women
Disclosure: Compensation was provided by adidas via Glam Media.  The opinions expressed herein are those of the author and are not indicative of the opinions or positions of adidas