16 Drool-Worthy Shoe Closets
Shoes aka the most powerful mood altering substance a woman can experience without facing jail time (or a massive hangover). Shoes don't care if you ate an extra slice of pie – they are beautiful, fashionable, and wearable works of art that are built for your enjoyment.
If you love shoes like I love shoes, you'll want to store them in style. Here are 16 images of stunning shoes being stored in  a beautiful way – along with some tips to store your shoes. My personal shoe storage philosophy is that if I can't see them, I won't wear them. So show those shoes and make them part of your closet decor.
Shelves
A wall of shelves, varying in heights, will help you show off your shoes and keep them off the ground.
The Floor
Not my first choice but if you have to put your shoes on the floor, make it the ones that you wear the most.
Get a Ladder
If your collection is this intense, you'll probably need a ladder.
I mean …
Are you drooling yet?
Stagger your Shoes
When you run out of shoes (like I did) you can stagger yours shoes with the right behind the left.
Angle Your Shelves
Show off your shoes even more with angled shelves and shoe stoppers.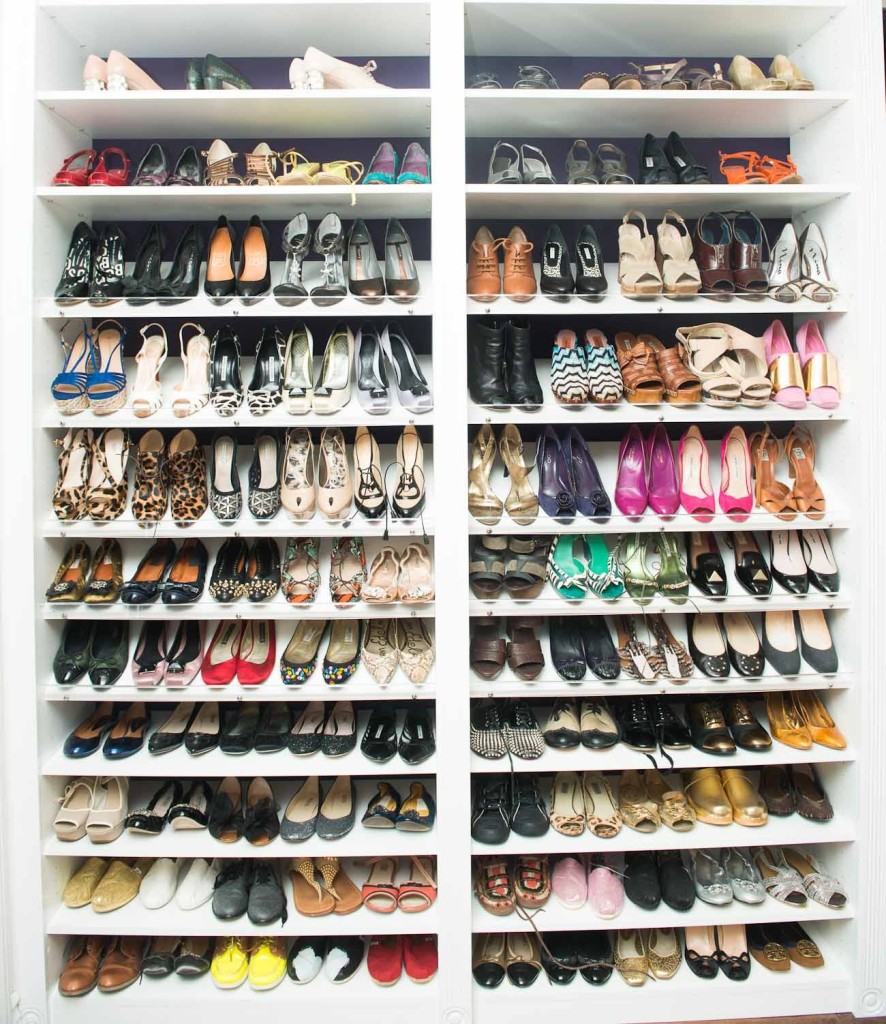 Mix in Your Bags
Bags need love too, ya know.
Make it a Work of Art
Mix your shoes with books, bags, jewelry, and other accessories to make a decorative statement too.
So beautiful …
Use Clear Doors
Keep the dust off with glass or clear plastic closet doors.
DIY It
Call your handyman over and have some wall shelved installed.

Get a Piece of Furniture
Don't want to install a shelf? Get an interesting piece of vintage furniture instead.

Remove the Doors
My closet came with built-in shelves INSIDE the closet. I removed the doors to show off my shoes and clothes and viola.
Step Inside My Shoe Closet

Save
Save