10 Ways to Wear Chambray
I believe every woman should have at least one chambray shirt hanging in their closet. It's a classic and a staple suitable for all seasons. Button it up or leave it open – either way you are going to look effortlessly chic.
Here is a little inspiration for you marinate on so the next time you wear your chambray shirt you can do it with an extra dash of style.
With denim
Denim on denim used to be the ultimate fashion no-no but right now if you have chambray on your side, it's totally okay.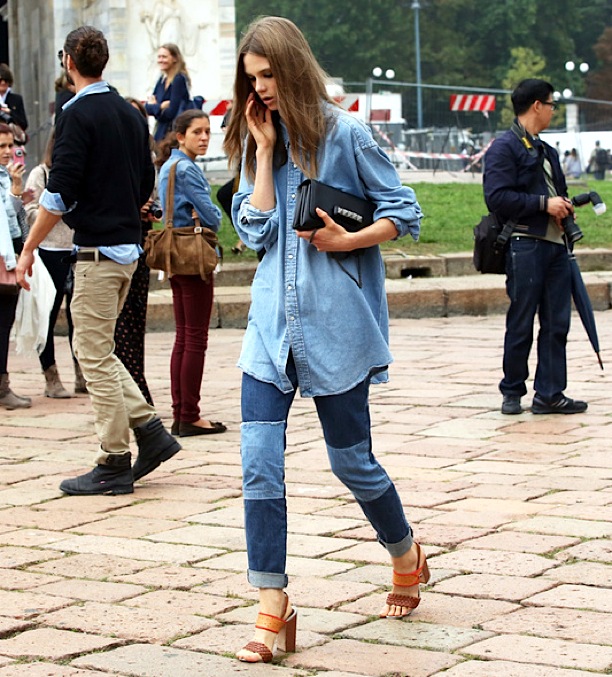 With a varsity jacket
Get sporty-chic by pairing a varsity jacket over top of your chambray shirt.
With a boyish twist
Shorts, flats, and a blazer will take your chambray shirt to the next level because a menswear inspired look is always on point.
With a pop of color
Treat this classic top as a neutral and pair it with bold colors for a spring/summer look.
Layered
Tuck your chambray top under a sweater and a sleek coat for a fashion-forward fall look.
Un-done
I find it ridiculously chic when a chambray is unbuttoned dangerously low. However if you have big boobs, you might want to skip this one.
Relaxed
Everyone deserves a lazy day when it comes to dressing. Lucky for you, chambray makes the lazy-look look pretty darn chic.
Make it fancy
Fur trim makes everything more exciting doesn't it?. Give your chambray a dash of clash with fur details  or a stylish hat.
With prints
Go crazy with prints and allow your chambray to be the neutral that holds the look together.
As a shacket
Shirt + Jacket = Shacket.
How do you wear chambray?