Celebrity Looks for Less: Olivia Palermo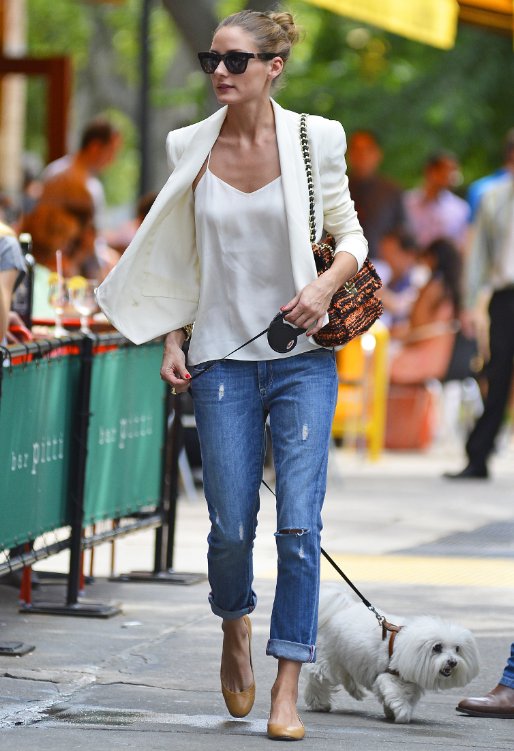 Think you need a million bucks to pull off socialite and "it girl" Olivia Palermo's style? Well, you couldn't be more wrong. I've re-created this look using all designer clothing and for a fraction of the price. There is even discount Chanel in this look for less. Uh … you're welcome! Dog not included.
Tibi Pique Blazer // Was $550 Now $214.99
White blazers are so chic—and are a nice replacement for your typical black blazer.  This is the exact look that Olivia has-only this one is 50% off!
Tibi White silk cami // Was $158.00 Now $94.80
This tank has been all over the street style blogs this year.  Get in on the fabulous already. I mean … it's under $100.
Chanel Fuchsia Wool Jumbo Classic Flap Bag // Was $3,600 Now $2,895  
There is a reason "classic" is part of the title of this bag.  Chanel never  goes out of style.
Current and Elliot Stiletto Skinny Jeans // Was $228.00 Now $182.40
I have these jeans and I LOVE them!! Current Elliot and me are like peanut butter and jelly. You will definitely get your moneys worth out of these super-comfortable and stylish jeans.
D&G Sunglasses // Was $180.00 Now $ 73.85
If you're going to be a celebrity, you're going to need big sunglasses.  It's part of the job description.
Cole Haan Astoria Ballet Flats // Was $198.00 Now $177.99
The thing I love about Cole Haan is the thought they put into their shoes.  The geniuses over there have cracked the code. They are always stylish and comfortable.  Those people should be working at NASA.
So there you have it, a million dollar look for less.