NYFW Fall 2013: Nicholas K
Mercedes Benz Fashion Week has officially begun! My first show of the season was Nicholas K at Lincoln Center. I'm a huge fan of the brand, as I have frequently pulled the collection in Los Angeles for various styling jobs.
For Fall 2013 Nicholas K had kinda of an edgy arctic hunting trip kind of vibe going on with parkas, fur, chunky knits, trapper hats, hoods, and a grip of draped silhouettes – which like it or not are clearly here to stay. The collection is actually quite perfect for the weather New York is having right now. Um, can I borrow a sample of two for the next few days?
OK, onto to the collection. Love, love, loved the color palette. It was actually quite refreshing to see some duller colors after being punched in the face with a sea brights and neons as of late. The olive greens, the various shades of grays, and muted purples were just gorgeous.
Look 4 was pure genius with that fabulous plaid and fur number. I'm a huge fan of effortless outerwear and this certainly fits the bill.
Look 21. How bad do I want that hooded sweater? I can so envision that in my closet. I would wear it with dark wash jeans, a leather motorcycle jacket on top, and my authentic combat boots … undone.
Look 30. I told myself I was finished with those drapy collared jackets but I could get on board with this one. Plus, the leggings? So good.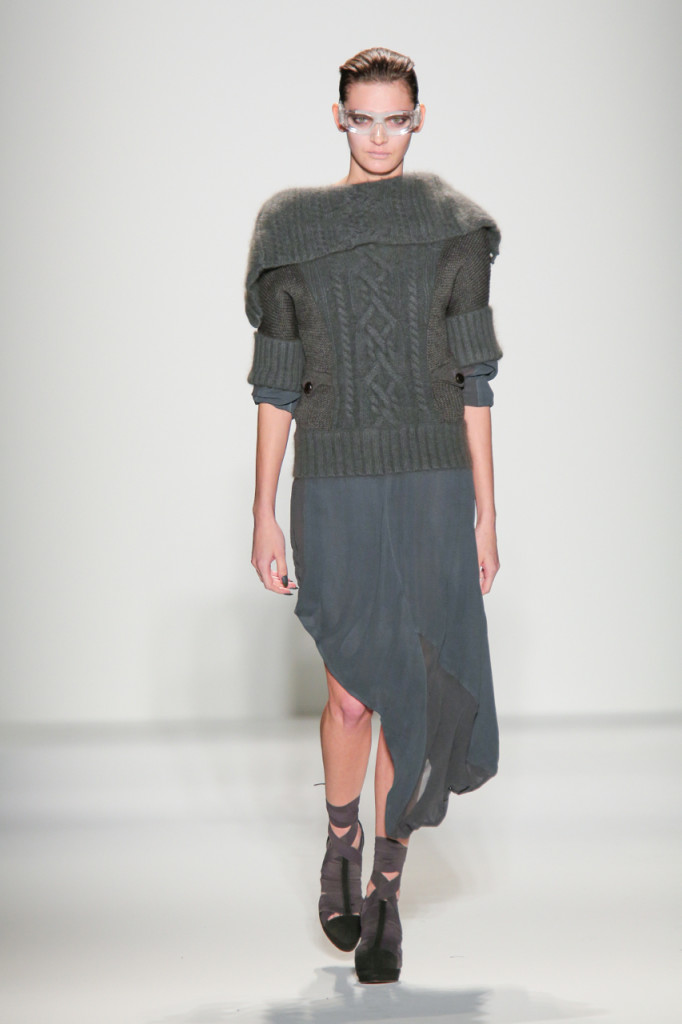 Look 38. Maybe it's the inner Kris Kros fan in me but I seeing this backwards cable knit sweater really made me happy.
Look 45. Weird poncho thing – all day, everyday.
Look 47. Oh look, another non-heinous poncho – yes, please.
And finally a few of my favorite menswear looks …
(photo credit: Randy Brooke)
What did you think of the Nicholas K collection?