Simply Stylist + Marie Claire Blogger Style-Off
Today I participated in Simply Stylist's first ever New York City event. I participated in a more than one way, actually – as a guest (love hearing talented people in the fashion industry speak), as a speaker (Luke and I taught a 3o minute School of Style breakout course), and as a blogger in the Blogger Style Off. It was a lot to do in one day but as a perpetual multitasker I found it to be pretty awesome.
The Blogger Style Off was probably the most fun and the most challenging task. I only had 30 minutes (had to get back to teach my mini-class of students after all) to style a look using pieces from the Simply Stylist shopping event. I took a lap around the even to meet the brands and went to work.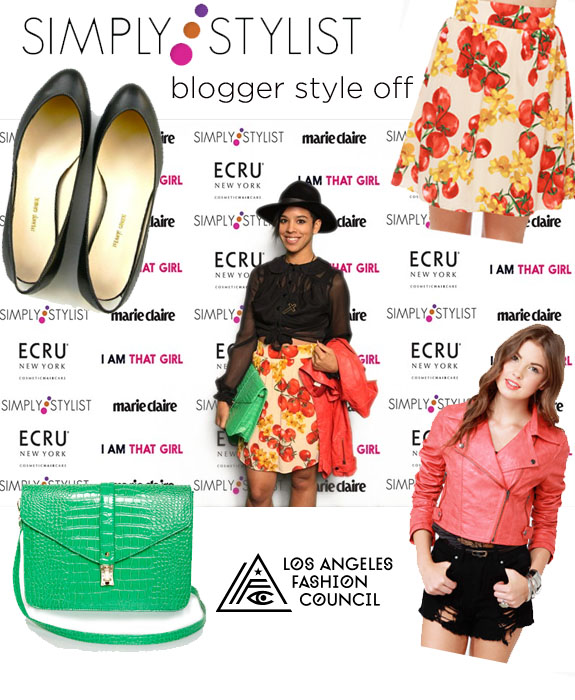 Click here and vote for me (aka your favorite look). Voting starts at 9AM PST on Monday, September 10th and goes through Friday September 14th at 5PM EST.

Don't laugh – okay laugh- but I was inspired by the new show 'Breaking Amish' (I mean, you know you want to watch it). I started off with this adorable tomato print skirt from Lulu's and a red vegan leather moto jacket — after all it wouldn't be a look from Lauren without a moto-jacket. Also from Lulu's (love them) I picked up a bright green bag for an unexpected pop of color.
I dashed over to my friend's at the Los Angeles Fashion Council to find a sheer cropped top with a peter pan collar and a cross necklace. I have to say, the pieces I pulled from there were definitely my favorites and so very "me". Finally the shoes. I picked up a pair of super comfy ballet flats from Ifeanyi Chuku.
The hat was my own because a.) I already had it on and my hair was not gonna look cute at all without it out and b.) I mean, c'mon Amish-chic?
So there it is. My 30 minute Amish-chic look. You like? You can show me how much you like it by voting for me on Simply Stylist so I can hold the first ever title "winner of the blogger style off". Help a sista out? Thanks!