Top 10 Tips for Scoring a Designer Deal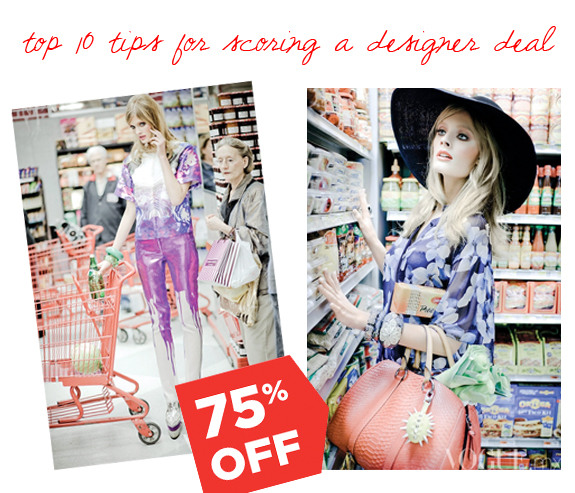 When it comes to scoring deals, some people have all the luck! Or so you'd think …  Shopping for a discount for designer clothing is an art form. You have to know how to stalk your favorite pieces, when to shop for them, and how to get the best deal possible. I'm an old pro at this stuff so I've got a trick or two up my sleeve.
1.) Shop the end of season sales. I consider myself extra lucky because I live in a season-less city (LA) so end of season buys are just perfect for me. The best end of season sales are at places like Barneys, Neimans, Saks, and Bergdorf. If you can hold out until the end of the sale, you will score the bigger discounts.
2.) Hit the outlet malls. It's rare that an outlet mall is ever right around the corner. They tend to stick those malls in the middle of nowhere but trust me, it's worth the drive. I visited the Barneys outlet while I was in New York and go some insanely deep discounts. They may as well have been giving it away.
3.) Try designer discount stores. Loehmann's, Nordstrom Rack, and TJ Maxx are gold mines that you can visit daily because that's about how often they get new shipments.
4.) Shop online. If digging around a discount store isn't for you, there are tons of online options like Gilt, The Outnet, and Yoox.
5.) Clip coupons. Become an 'Extreme Couponer' (have you seen that show? Amazing!). Loehmann's always sends coupons in the mail and places like Last Call and OFF 5th send coupons via email.
6.) Get those membership cards. My Loehmann's Diamond Club card has saved me hundreds, perhaps even thousands of dollars. My MORE card from OFF 5th has also saved me a buck or two.
7.) Don't fear junk mail. Junk mail sucks but when it has a coupon or an announcement about a sale in it then it doesn't!
8.) Be a style stalker. This comes from years of shopping and studying fashion but I can tell which pieces will sell out (meaning worth paying retail) and which pieces will be harder to sell. Those harder to sell pieces are worth stalking from full price all the way to the sale rack.
9.) Get friendly at the stores. Make friends with the sales associates at your favorite stores. They will call you when that item you were eying goes on sale. They will also hook up with first dibs and early access to sales and events.
10.) Shop consignment stores. People often forget about consignment stores. Consignment stores are curated, beautiful inside, and have coveted pieces for less.
Those are my top 10. Anyone out there have tips on scoring a deal? Share the sale love and leave it the comments.