Top 10 Fast Fashion Spots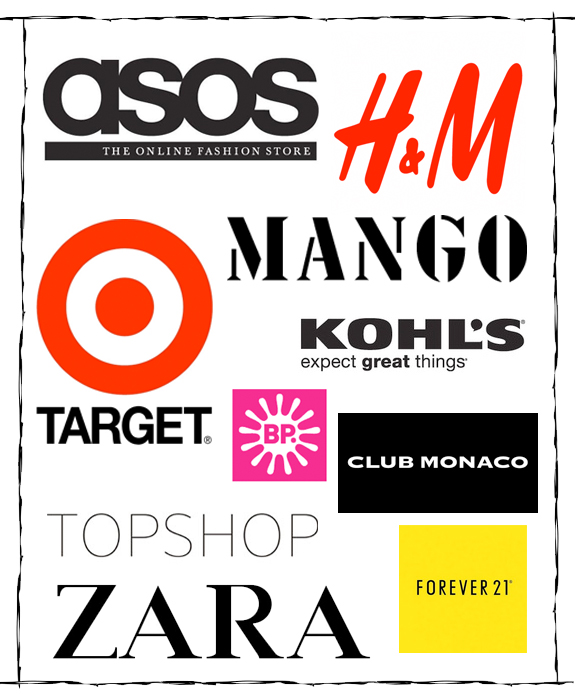 You know me, I am all about a designer deal but occasionally I like to mix it up with a little high/low action. What does high/low mean? It means mixing designer pieces with inexpensive fast fashion pieces. Items from H&M and Topshop, for example, aren't exactly built to last but those inexpensive pieces are great supplements to any wardrobe (in my opinion).
Here are some of my favorites spots to score fast fashion:
1.) Topshop– Dare I say that Topshop is the best in fast fashion? Love their accessories and the quality is superior than say, H&M. Excited that they are opening one in LA soon.
2.) H&M– Sure the quality isn't the best but I love H&M. Right now I am loving their neon earrings and pencil skirts.
3.) Zara– I was never a Zara girl until I started shopping here for clients. I was definitely missing out because Zara is the bomb. Their jackets are amazing. Prices are a tad high but the quality is really good. Oh and check out their shoe selection
4.) Club Monaco– I had totally forgotten about Club Monaco but it resurfaced for me while shopping for clients. Get your stylish basics here.
5.) Forever 21– I steer clear of the clothing here because the quality is very poor (however I did get a great pair of leggings here) but the jewelry (bracelets specifically) are awesome.
6.) ASOS– This website has a nice mix of high end and fast fashion pieces. The website is easy to order from and they do a great job of delivering the trends for less.
7.) Mango– Another one that is easy to forget about but they have really cool stuff. Definitely worth a visit.
8.) Target– Get on the Target train when they have their designer collections. I also love Target for cute and inexpensive swimwear.
9.) Kohl's- Love me some Kohl's! They have great collections like Simply Vera by Vera Wang, LC Lauren Conrad, and Rock and Republic.
10.) Nordstrom's B.P. department– I shop for my clients in the BP department all the time. The jewelry is amazing as are their tank tops and basic knit blazers.
Those are my top 10 places to score fast fashions, am I missing any great stores or websites? Let me know in the comments.