20 Places to Spend Less on Designer Clothing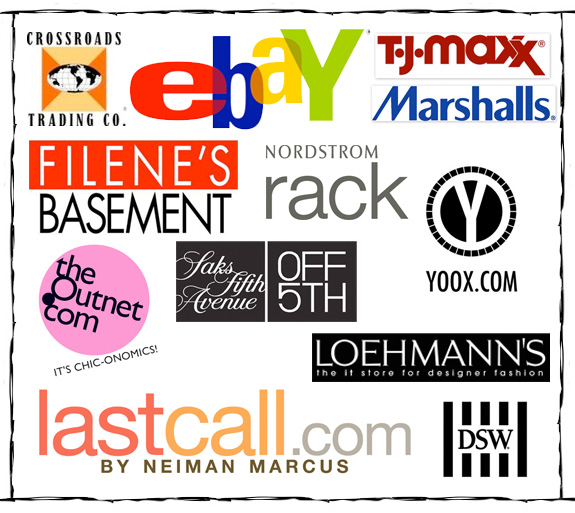 People always ask me where I get my designer clothing (for less) for myself and for my clients.  The answer is all over! I will shop (almost) anywhere and everywhere for a designer deal. Here are my top 20 spots to score a designer deal.
1.) Nordstrom Rack – I love, love, love Nordstrom Rack! I especially love the locations that have a designer collections department. I've found Chanel, Celine, Givenchy, Balmain, and more at Nordstrom Rack. Check out my Nordstrom Rack shopping guide to find out how to score deals like that and more.
2.) Barney's Warehouse Sale- The sale of all sales. I wake up EARLY in the morning to wait in line for this sale. I go on the first day and I go on the last day. It's the real deal. Want to know how to shop the sale? Read this.
3.) Loehmann's– The Beverly Hills location blows my mind every time. I'm talking Moschino, Valentino, Dolce and Gabbana, Helmut Lang, Jason Wu, and the list goes on … Check out my handy guide on how to get the best deal at Loehmann's.
4.) TJ Maxx– I've been shopping at TJ Maxx since I was a kid. Who doesn't love TJ Maxx? I love them even more now that they have a designer department. More on shopping at TJ Maxx here.
5.) Saks OFF 5th– A huge portion of my closet comes from OFF 5th. They consistently have amazing designer deals, extra percentages off, and discount with their MORE card. Get on the OFF 5th train. Learn more about shopping at OFF 5th here.
6.) Last Call by Neiman Marcus- No visit to OFF 5th is complete without stopping by Last Call as well. The two stores are usually next door to each other and are equally amazing. More on shopping Last Call here.
7.) Barney's Outlet- The entire staff at Barney's Outlet knows me by name. There are insane deals to be had here. Make sure you go towards the end of the season when the discounts are extra deep.
8.) Century 21– Whenever I am in NYC I stop by Century 21 … for at least 3 hours. The summer and winter sales are crazy good!! Be sure to check out their shoe department too.
9.) Marshall's– There aren't as many designer scores at Marshall's (TJ Maxx has more) but you can score a deal here. I find a lot of designer men's clothing at Marshall's. I'm talking Alexander McQueen, D&G, and John Varvatos.
10.) Gilt Groupe– In my eyes this is the only designer flash sale site that matters. They have the best labels. Hands down.
11.) DSW– I've been scoring designer shoes at DSW since back in the day! I've gotten Prada, Stella McCartney, and Moschino. I even saw a pair of Alaia's on their site the other day.
12.) Bluefly– Great place to find designer bags for less.
13.) eBay– A lot of people are weary of eBay but I encourage you to stop living in fear, you are missing designer deals! I got my gold YSL muse bag for $600 (retails $2250). Oh and yes it's real – I had it authenticated.
14.) Filene's Basement– I spotted a Rolex watch at the Filene's in NYC. I've also purchased a Balenciaga top here for $30.
15.) Maxfield Bleu– Oh man, if you are in LA you've got to come here!!! Deals, deals, deals … PS- The shoes are amazing!!
16.) Decades 2– I consign and I buy here. This store is perfectly curated and the clothes are all in amazing condition – some are even brand new!
17.) The Outnet– Meet Net-a-Porter's inexpensive little sister. Nuff said.
18.) Yoox– Be ready to comb through pages and pages of merchandise on this site but it's worth it. The clearance section is next level. I get a lot of shoes on this site. A LOT!
19.) Wasteland– Many go to sell their old junk here but take out a little time to shop too. I've found YSL, Fendi, and more here on the super cheap.
20.) Crossroads Trading Co.- This store is much more mello than Wasteland in my opinion and they have good stuff behind the register. I got a Hermes scarf at Crossraods. True story.