How to Shop Last Call by Neiman Marcus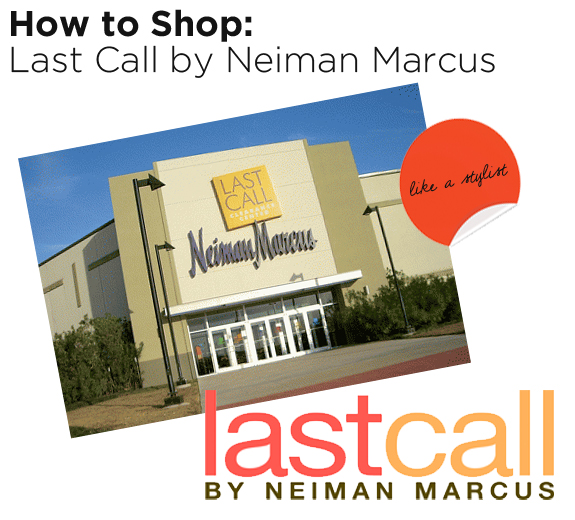 In case you hadn't heard, my specialty as a stylist is finding designer fashions for less. Many people ask me how I do it. Because I'm not one to keep secrets, I am going to share my insider tips with you. These tips will be completely worthless for those of you who dislike bargain shopping. To me disliking bargain shopping is pure insanity but I get it this type of shopping isn't for everyone. To me there is nothing more satisfying than finding a beautiful piece of clothing for less. I will stalk, dig, and scour racks upon racks of clothing for a deal – it's my idea of a good time. So if you are into getting a deal, keep reading because each week (or so) I will give tips on how to shop my favorite bargain haunts.
And now I give you tips for Shopping at Last Call by Neiman Marcus:
1.) Leave your shopping list at home: Going into a store like Last Call by Neiman Marcus with something specific in mind is a recipe for disappointment. I speak from experience. I have gone in looking for a specific item for a client and it basically ruined the whole shopping trip. I was so focused on finding a black suit in a size 2 that I missed out on finding other amazing items. When it comes down to it, finding a classic piece in a smaller size can almost be impossible. Go in with an open mind and you are sure to find something great- maybe even a classic item for less!
2.) Start in the designer department first: I always head straight to the designer section of Last Call. This is where actual items from Neiman Marcus go to hang out. This is also the section in the highest demand, so get there and get there quick. In this department you will find Chanel, Balenciaga, Balmain, Dries van Noten, Marni and more for around 75% (sometimes more, sometimes less).
3.) Shop the designer department clearance racks: When I head into Last Call I start in the designer department and peruse the selection but the real shopping happens on the clearance racks. On the clearance racks you will find already marked down designer duds for an extra 30%, 50%, or 65% off. Hello, score! Be sure to shop all the sizes as well. Designer sizes runs differently so try to ignore that pesky size label. Also, sneaky shoppers tend to stash items they want in a different size area – little sneaks.
4.) Don't forget the shoes: The shoe department in Last Call can go unnoticed because it is noticeably smaller than the other departments. A common mistake is to just casually walk through only to see low-mid level shoe brands. I challenge you to open your eyes because there are some seriously designer shoes lurking on those racks. Somehow I walked right past a classic black pair of Christian Louboutin pumps in a size 7.5! Another fashion-savvy bargain shopper snatched them up. So I always keep a keen eye on the shoe department.
5.) Have your tailor on speed dial: The deals at Last Call are literally too good to pass up so if you find the perfect garment that is a little too big or small – give your tailor a ring and see if it can be altered. Pants, skirts, and dresses are all easy and inexpensive fixes. Jackets are a little tougher/pricier as are too tight shoes. So try on and come with a basic knowledge of what can be altered and what can't.
6.) Price check on designer fashions: Before you buy, have the cashier do a price check. Items at Last Call are often secretly on sale. If you are on the fence about something because of the price have the clerk check it, you may be pleasantly surprised.
7.) Don't leave with fashion regrets: Last Call has a great return policy so if you find something you like just buy it! You can always return it later (unworn with tags of course). The worst thing that can happen is that you get home and wish you got XYZ. Let me tell you something, if you go back to get it – it will be gone. Last year I was trying to be "frugal" and didn't get a Balmain tee shirt that was 90% off. I instantly regretted it and went back 2 days later only to find that someone else snatched it up.
So there are a couple of tips to carry with you on your next trip to Last Call by Neiman Marcus. Happy shopping!