Travel Tips: Your Beauty Essentials
I've been traveling a lot lately. It seems like every other day I am packing up a suitcase to hit the road. You would think that I would have the whole process down to a science but truth be told … I don't.
There is one thing that I have managed to master and that is getting down to my beauty essentials. It didn't happen overnight, trust me. I would swear that I needed every single cosmetic and beauty tool that I've ever purchased. I mean,what if I wanted a raspberry lip one day and red lip the other? Oh and I've got to have a basic neutral lip color and my favorite lip gloss, right? Wrong. As you can see that nonsense left me with a cluttered cosmetic bag and an even heavier suitcase. Something had to give.
So I broke it down to the bare necessities so I could have bare confidence on my trips away from home …
1.) Foundation- When I travel I don't go all crazy with the primer, the foundation, and powder. That's too much. I bring along my trusty cream foundation, which covers all my bases.
2.) Eye shadow palette– Instead of bringing multiple palettes or single shadows, I bring one palette that has a neutrals ranging from beige to dark brown/ black. That way I can have a day and nighttime eye.
3.) Mascara- I've gotta have mascara! One tube of black will do, I get bonus points when I actually have a travel sized mascara.
4.) Blush or bronzer- This is a new step in my beauty routine. I find it key to looking awake during long days of travel or sculpting a puffy airplane face.
5.) Lipstick/ gloss- I bring one bold lipstick and one neutral gloss only. That way I have options to change up your look without over packing.
6.) Travel brushes- I don't bring my big brushes on the road with me anymore … I leave those at home. There are so many amazing and affordable travel brushes out there, totally worth the investment.
7.) A hair removal device- No joke. I always bring a razor and a pair of tweezers, which I inevitably forget at the hotel or forget to put it in my suitcase so they never make it to the hotel. Hair removal is key! There is nothing worse than getting all hairy on a trip away. I am actually super excited about Philips Satin Perfect epilator that also comes with a shaver attachment and tweezers. It's travel sized and way too awesome to leave behind.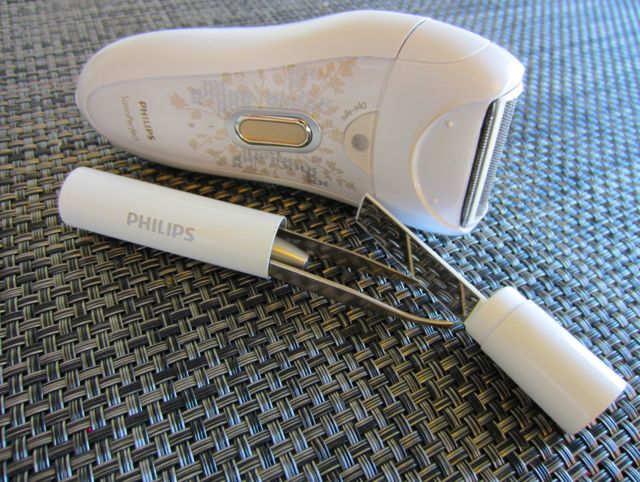 So those are the basic must haves to toss into a makeup bag. If I have extra room I throw in things like a eye pencil and an eyelash curler. They aren't absolute musts but they really don't take up that much space so why not?
When I have it down the bare necessities there is no need for some major organization acrobats because everything fits nicely into a makeup bag.
Tell me what's in your makeup bag by entering the Style Your Spring sweepstakes at http://www.beauty.philips.com/
Philips Satin Perfect is an innovative solution for women who are looking for a simple, at-home hair removal tool to ensure they are ready for any outfit at a moment's notice. Satin Perfect is a cordless, total body epilator that removes even the shortest hairs in one stroke, so skin stays silky smooth for up to four weeks. It includes an extra-wide epilation head with textured ceramic discs to remove even the finest and shortest (.5MM) hairs. Visit www.Beauty.Philips.com for more information on Philips female hair removal products.
Disclosure: Compensation was provided by Philips via Glam Media. The opinions expressed herein are those of the author and are not indicative of the opinions or positions of Philips.