The Look for Less: Spiked Hair Accessories
I've been lusting after spiked hair accessories for the longest – specifically a spiked headband, a spiked hair comb, and studded turban (which I already scored last year from Etsy). The thing with these accessories is that they are pretty fad-ish. So it would be silly to spend a bunch of money on them. Luckily, with a little hunting, the look can be found for less … much less.
My first score was a while back but since it matches the theme of this post I may as well share about it. I saw a picture of a spiked turban forever ago in a French fashion magazine. I snapped a picture of the page to remind me to be on the hunt. I later found one by Jennifer Behr but I wasn't willing to pay that kind of money for something I would only wear a handful of times. I went to Etsy and found exactly what I was looking for. The seller 1000carats hooked me up! For a cool $50 she sent me a full on studded turban and a studded headband-like turban. I actually wear both quite often.
Jennifer Behr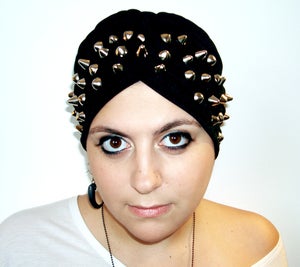 1000carats
The next piece I was lusting after was a spiked headband. I have seen a few variations that pulled at my heart strings, the best being by Givenchy. I actually probably would pay for the Givenchy headband but I've been having trouble finding it. So to quiet my craving, I got a less expensive version to wear about town. I actually found it this past week in London at Topshop. It definitely does the job. It is comfortable and stylish. Win, win.
Update: I found a headband identical to the Givenchy version on Etsy!
Givenchy headband
Topshop headband
My final spiked love affair is with a spiked headband that I found while cruising the web. I love how is it worn on a short haired girl (see pic). I searched high and low for this hair comb but came up with nothing. Then one day while shopping in New York I found one!! Silly me, I didn't get it. I pulled a shopping fouls- thought I would come back later because I didn't want to carry a shopping bag at the moment. Not a good move. BUT the shopping gods were looking out for me because I found a spiked hair comb at Topshop while I was in London last week. Score!
spiked love
Topshop version
So there you have it, spiked goodness on the cheap! Hooray.