Trend Alert: Conductor Hats
While pulling clothes for the style tour this weekend I, of course, stumbled upon some treasures that would be perfect for me. I resisted most of the urges (I passed on the hot pink faux fur jacket) but caved in on a few fashion urges. One of those treasures being a fantastic conductor hat from Nordstrom. The hat was only $28 and totally made the outfit I wore on Saturday.
I racked in a ton of compliments with my new hat. It got me thinking that we may have a full blown mini-trend on our hands. The conductor hat is more substantial than the newsboy and less in your face than a fedora. It's the perfect in between-y hat.
I credit Marc Jacobs for Louis Vuitton for this trend. His version is more like a combination of a conductor hat and a bellhop hat. But let's just call it a conductor hat for the sake of the trend …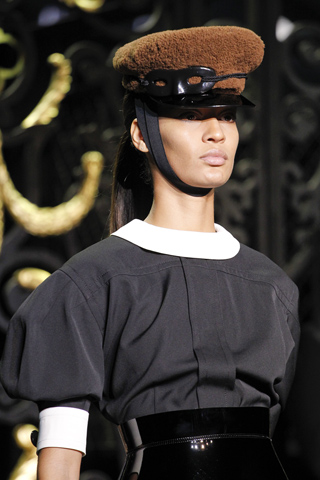 Now you don't to have go all runway with it to wear this trend.  To first step in working this trend into your everyday wardrobe is this; lose the chin strap! The chin strap is only chic on the runway. Are we clear on that? OK, good.
The next step in adding this trend to your wardrobe is finding the perfect hat. When it comes to hats, especially if you are new to hats is to start simple. Go for a solid neutral like black, gray, brown, or charcoal. Save the LV printed hat for the hat masters of the world. Keeping your hat fairly simple will help you make a statement without looking like a fool.
Here are a couple of great hats that are available right now …
The Tarnish Chain Hat available at Nordstrom for $28 (this is one I have)
'Witty Wool' Conductor hat available at Nordstrom for $28
And if you are more of a girly-girl, they even have a conductor hat with felt flowers on the side, also for $28.
Alright, so now you have the hat but how do you wear it?  In case it isn't obvious, please don't go full-on conductor with overalls and that whole thing. The truth is there are many ways to wear this trend. The direction I took my hat my was edgy/girly-girl with a Proenza suede blue mini-skirt, tights, and a silk and tinsel blouse from 3.1 Phillip Lim. Another direction is jump on board with the whole menswear trend. Try wearing your conductor hat with a great menswear inspired trench and a sheath dress. You can also go casual chic with trouser cut pants, and a cream turtleneck ala Michael Kors.
Here is how I wore the trend …

So, would you sport the conductor hat trend?