Barney's Warehouse Sale: Day 1 Aug. 2011
If you've ever been to this blog before, you know I am a HUGE fan of Barneys and the Barneys Warehouse Sale. Today was the first day of the sale. I actually considered not going because I had to be to work today at 11am. You see the sale started at 9am, which means I would have to be out by 10am.  That is clearly not enough time to shop. However, I read on Racked LA that there were amazing deals on bags. So I got up early and went.
Well I didn't get there early enough because there was a huge line to get in the door. I was not even close to the front of the line, so sadly I didn't get the bag I wanted 🙁 But I didn't let that bit of shopping defeat get me down and I kept on shopping.
Can I just say one thing … the psychos (myself included) who come to the sale the beginning of the first day are next level.  Its like a gang of termites zipping through a freaking wood factory. Everyone was grabbing everything in sight and throwing them into their shopping bag- whether they wanted it or not. So it was slim pickins.
I did still manage to score though …
Score #1- Blue glitter Miu Miu oxfords: I've had my eye on these since way back in the day. The girl next to me in the "trying on zone" had them. I was looking at them longingly and asked her (after 10 minutes of staring and drooling) what size they were. They were my size. Then I asked her if she didn't want them, then I definitely wanted them. She was kind enough to hand them over to me!!! What a sweet heart. She totally made my day.
Score #2- Maison Martin Margiela Snakeskin Sneakers: I tried these on multiple times at the Barneys store in LA and in NYC. So you know I was excited when I saw them today on super sale. So, so, so, so comfortable.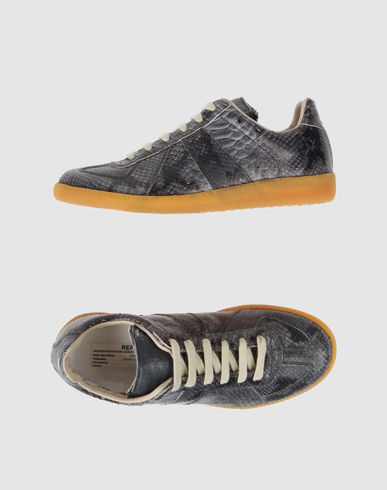 Score #3- 3.1 Philip Lim Gray Sweater: Cozy, cozy!! I actually am wishing it were cool outside so I could slip this baby on.
Score #4- 3.1 Philip Lim Tinsel Top: Ugh, I can't find a picture of the top but trust me it's fabulous.
Score #5- Sunshine & Shadow Belt: I have been in desperate need of a belt and this one is perfect. Its not exactly like the one pictured but its pretty damn close. The one I have has teal and blue and has less stitching and more leather.
Score #6- Another belt that I don't the brand but I've wanted it for months and month: It's dope 🙂
I'm sure I'll be making another visit to the sale and you know I will be blogging about it. Stay tuned!