Dress My Body Type: Bigger on the Bottom
So you're bigger on the bottom aka "pear shaped", eh? Not a problem because with some strategic dressing, people will be none the wiser. Ever notice how some of your favorite pear-shaped celebrities look completely proportional most of the time? That is because they have been dressed by a stylist who knows what they are doing. Lucky for you, I am a stylist and will give you some tips on how to dress your "bigger on the bottom/ pear-shaped" body.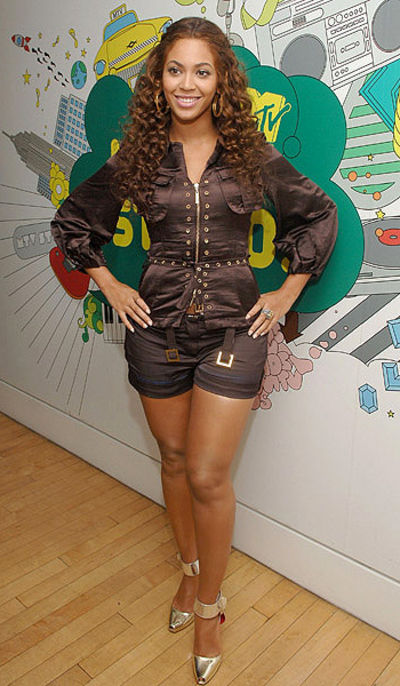 The secret to creating a proportional, streamlined, and slim look is to build out the smaller portion of your body. In this case, it would be the top of your body. By building up the top – your middle will look extra tiny, and your bottom will be completely balanced and will no longer look bigger. Pretty simple isn't it?
Here are a couple of tips that will help you out the next time you are getting dressed …
– Add some excitement and volume to the top! Try wearing a large print up top or a brighter color to add a little extra kick to the upper part of your body. That kick will move the eye up, up, and away from your larger bottom. Not into big prints or loud colors? No problem, just add some volume instead. What do I mean by volume? I mean frills, ruffles, blousy and flouncy cuts to the top half of your body.
– Keep the bottom simple and streamlined. If you aren't too thrilled about your bottom half, then it probably isn't wise to play it up with printed bottoms or crazy colored jeans, right? Right. Keep the clothing on your bottom half nice and clean. Structured fabric, dark colors, and solid colors tend to work best. Another tip: A tailor is your best friend! Buy pants that fit your hips and thighs, if the waist is too big … get them altered.
– Show off that waist! One of the advantages of having a bigger bottom is having a smaller waist. If you don't consider your waist to be small — try calculating your the hip to waist ratio. The numbers don't lie! You have a tiny waist so lets emphasize that thing. Belting is your friend, just make sure the size of belt is on par with your overall body frame size (small frame = thin belt). You can also work dresses into your wardrobe that emphasize the waist. A wrap dress is a great place to start.
I will leave you with a few fashion do's and don'ts for bigger on the bottom/ pear-shaped body types …
DO
– Choose structured jackets that accentuate the waist and sit above the hips
– Draw the eye up with embellished tops
DON'T
– Draping near the hip area is a poor choice when it comes to dresses and skirts. The draping will make your hips appear wider.
– Wear long tops and tunics that cover your problem area. This makes your legs look short. This ruins that long lean look we were going for.