Oh No I Didn't: Marc Jacobs Birkenstock-Like Sandals
Oh yes I did …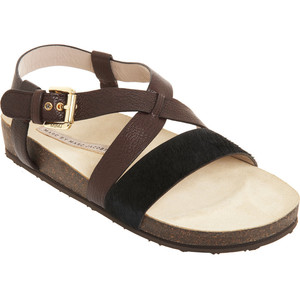 When it comes to footwear I am pretty much the polar opposite of Birkenstock sandals. I am more of a designer heels type of girl. Since I started working full-time as a stylist I had to succumb to the siren call of comfortable flat shoes. That call has lead me to some pretty great shoes too, actually … Lanvin ballet flats, Marni flats, Lanvin sneakers, a new-found appreciation for Converse, and even Toms!
However, the need for comfort hasn't lead me anywhere close to something as dramatic as a Birkenstock sandal. Until now. I'll tell you how it happened, its a bit more complicated than me just needing comfortable shoes.
It all began when I was shopping for one of my clients. She wanted comfortable shoes that are great for walking (in the summer). She doesn't wear heels, not a fan of ballet flats, not into wedges either, and didn't really want sneakers. My options were slim. I was in Barneys and I came across a pair of Marc by Marc Jacobs Pony Hair Sandals. I thought they fit the bill perfectly! Super comfortable, stylish, and versatile. Clearly not my style but they seemed perfect for her.
Tell me why, months later I was still thinking about those shoes? I was fascinated by them. I also found that I was kind of in need for them. You see, I've been kickin it out in nature a lot lately. Road trips to the mountains, the desert, nature trails, hiking, parks, etc.  Just call me Miss Wilderness because that's how I've been spending my free time lately.
Which brings me to today. I was at Barneys to check out the latest markdowns and just happened upon the Marc sandals. They were on sale for $89!! It just so happens that I am going on a road trip and these shoes are going to be perfect for my little adventures.
Believe it or not … they actually look cool as shit too. So there. Oh yes I did!