Adventures in Styling: Red Carpet with Lori Goldstein
It's seems like its been ages since I've blogged … probably because it has been ages. My "Adventures in Styling" have been insane!!! Lots of exciting things happening on that front including walking the red carpet with the very famous and very talented, super-stylist Lori Goldstein. If you aren't a stylist stalker like I am and have no idea who Lori Goldstein is, let me give you a quick rundown …
Lori has been called one of the 'most sought-after stylists in the industry.' She has been styling for over twenty years and is best known for her collaborations with Annie Leibovitz and her work with Italian Vogue. She has styled larger than life celebrities like; Madonna, Demi Moore, Julianne Moore and Anne Hathaway. She has worked as a creative consultant with designers including Vera Wang, Nina Ricci, Carolina Herrera, Versace, and BCBG.
So yeah, she's kinda a big deal and as a newbie stylist it was a really big deal for me to get a chance to meet with her.
My fashionable encounter with Lori happened last week at the Four Seasons hotel in Beverly Hills. Lori was walking the red carpet with mic in hand interviewing celebs with sick style for QVC. You see, like any fashion super star with impeccable style, Lori has her own clothing line for QVC.  I got to chat with Lori for a bit before the big red carpet walk about her line for QVC and of course I picked her brain about what its like being such an amazing stylist too.
When I went into Lori's hotel room I really didn't know what to expect. I will admit, I was a tiny bit nervous (fashion people are the equivalent to A list celebrities to me). Lori opened the door and had really amazing energy and AMAZING style!!! She was all decked out in Prada and Balenciaga … so freaking amazing!!!!
Anyways, we sat and talked and I got the skinny on her line, LOGO Instant Chic. The thing that stood out to me the most about Lori's line was her passion about it. She truly enjoys designing fun clothes that anyone can wear and afford. It's as simple as that. I thought it was really interesting (aka awesome) that Lori is able to experience both sides of the fashion world — the attainable side with her LOGO line and the unattainable side with her extraordinary editorials she puts together as a stylist.
Check out the collection on QVC's site>
Become a fan of LOGO on Facebook>
Oh and check out my zillions of pictures from the event …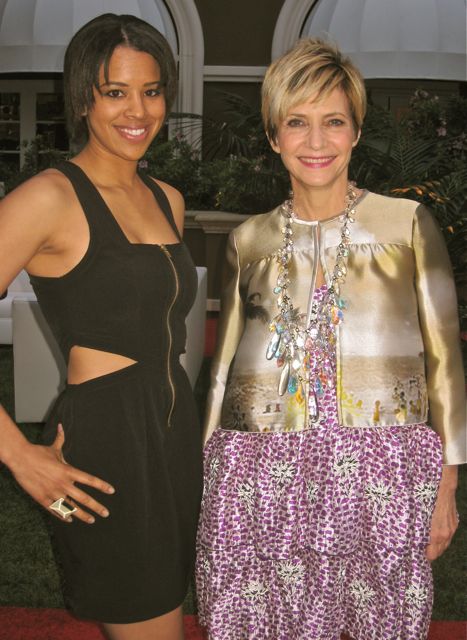 Me and Lori on the red carpet
The red carpet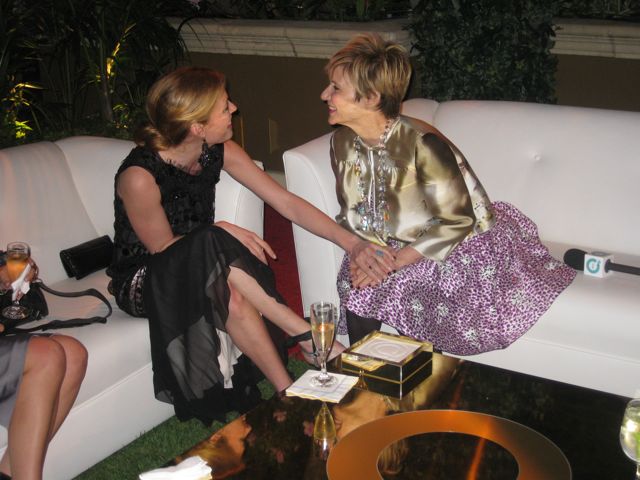 Cat Deeley and Lori Goldstein
OMG I love her outfit!!!
QVC stage at Four Seasons