Ways to Wear a Floppy Hat
Photo credit– Refinery 29
Q- How would you style a floppy hat? I recently bought one in dark brown. I don't want to look like an old lady (I'm only 20) but I also don't want to look like I'm trying too hard? My style is kinda tomboy-ish, kinda vintage meets punk. P.S, I'm so over the eighties, so no shiny leggings please!!
A- Let me say this first, your style sounds rad! I love floppy hats. I actually just used a floppy hats for one of the looks I put together for my shoot last week.
I dug around and found some inspiring images of floppy hats and out of them all, I vibed the most with this image of Mishca Barton from Nylon magazine. Obviously, you can't run around topless all day but I do like the idea of making the hat very casual with denim. I would actually mimic that look but instead of topless and a vest, how about a white tank and brown beat up leather jacket.
Photo credit- Nylon magazine
Here are a couple more images to get you going …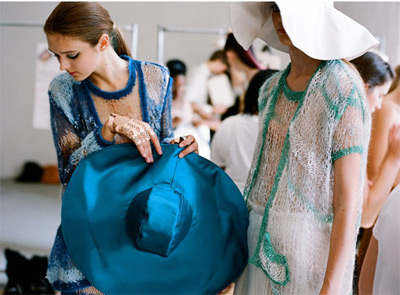 And finally, here is a look I put together that I think would be fun on you …