How to Wear Fingerless Gloves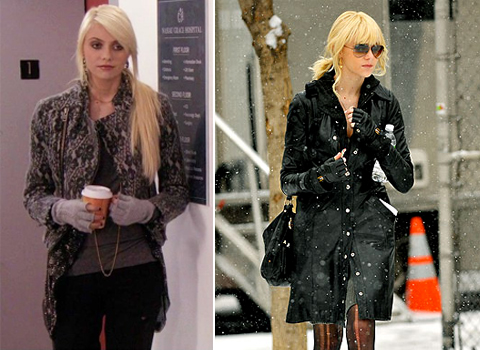 Q- I just bought these red, Deena & Ozzy, cut off finger gloves, but now I have no idea how to wear them. I attempted to wear them last night with a white long sleeve fitted tee shirt, destroyed light blue skinny jeans, grey glitter heel pumps, and a fitted black blazer but it looked … like I was trying to hard and missed! Can you help me dress these up and down?
A- Fingerless gloves are very tricky! I have a couple of pairs and I always have to work extra hard to make them work … without looking like I worked extra hard to make them work. So I can see where you are coming from.
I am really inspired by the two photos above of fingerless gloves and how they are worn. What I get out of those photos is that the fingerless gloves remain the accessory and not the center of the outfit. They just kind of blend in, you know?
So when wearing your gloves, don't make them stick out too much. I would take the outfit you created and simplify it. Try pairing the gloves with the white tee, the black blazer, dark wash or black skinny jeans, and black platforms or black booties.
Simple is the key.  Good luck!